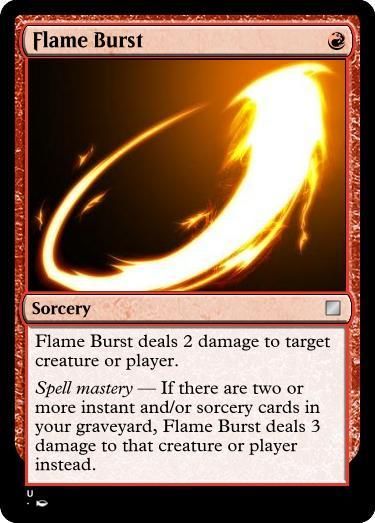 Flame Burst
R
Sorcery
Flame Burst deals 2 damage to target creature or player.
Spell mastery -- If there are two or more instant and/or sorcery cards in your graveyard, Flame Burst deals 3 damage to that creature or player instead.
When I first saw Fiery Impulse, I was impressed... until I realized it hit only creatures. If it also hit players, it'd be too good and be outright superior mixture of Shock and Lightning Bolt.
But I've noticed how Sorcery and Instant drastically affect a card's tier. The tight clamping of when in the turn it can activate makes the difference between "constructed playable" and "limited filler". So what if this card can be either Shock or Bolt, but locked at sorcery speed?
As a burn player, I definitely won't mind sorcery speed bolts. What do you all, who don't exactly play that archetype, think?