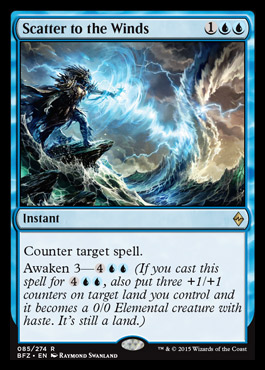 Scatter to the Winds
1UU
Instant
Counter target spell.
Awaken 3 - 4UU (If you cast this spell for 4UU, also put three +1/+1 counters on target land you control and it becomes a 0/0 Elemental creature with haste. It's still a land.)
Don't let your eyes fool you - that's just a rare, not a mythic. An acceptable replacement for Dissolve in Standard control decks - sometimes they have excess mana and won't mind making a 3/3 with that.