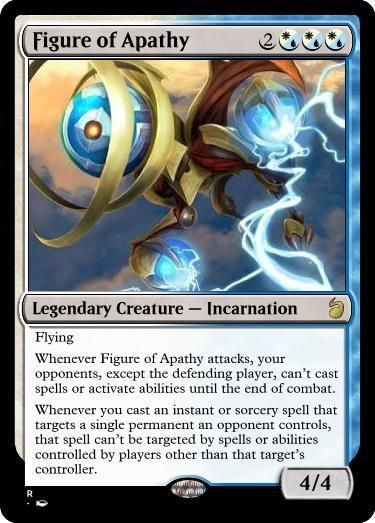 Figure of Apathy
2 W/U W/U W/U
Legendary Creature - Incarnation
Flying
Whenever Figure of Apathy attacks, your opponents, except the defending player, can't cast spells or activate abilities until the end of combat.
Whenever you cast an instant or sorcery spell that targets a single permanent an opponent controls, that spell can't be targeted by spells or abilities controlled by players other than that target's controller.
4/4
Tried to replicate the Bystander Syndrome to the best of my ability while keeping the card from being excessively wordy.
Essentially, what this card does is prevent other players from intervening in your endeavours, whether they want to or not. I'm still trying to smooth out the situation where Figure of Apathy is attacking a player while the rest of your creatures are going elsewhere in combat. Maybe if this only applies if the card attacks alone?